Therapeutic virtual reality has revolutionised many fields, and dentistry is no exception. With its non-medicinal approach, this practical solution, which has no side-effects, is turning dentist's surgery and hospital consultations on their head. So what are the benefits of virtual reality in dentistry? Let's discover 5 strong points that will make you want to try out or incorporate this immersive technology into your oral health care.


1. A device suited to dental consultations
The Healthy Mind medical device (CE class 1) consists of:
a 4K headset, wireless, off-grid and deployable in 2 minutes;
an application for setting up, monitoring and controlling immersion;
support from our team throughout use.
With wireless operation, the equipment adapts easily to the patient's position and movements, offering optimum freedom and comfort during dental procedures. What's more, the fact that there's no need for a connection simplifies use, eliminating the constraints associated with installing cables or configuring networks.
The device itself is compact and takes up very little space, making it easy to integrate into the dental environment. The equipment facilitates the work of the dental team because of its constant availability. Its format makes it easy and efficient to store, so space is optimised.
Virtual reality is a tool that the practitioner can rely on to concentrate on the medical act. In addition, the sessions can be fully configured, so the duration of the immersions can be adjusted to suit the actions performed during the dental consultation. Communication remains possible at all times during the experience, providing a safe space in which to maintain the patient-caregiver bond.
Therapeutic virtual reality can be adapted to a number of situations:
if the practitioner is not trained in hypnosis or cannot offer this experience due to a lack of time during treatment, but wishes to offer a non-drug alternative to his patients to help them relax;
if the practitioner practises conversational hypnosis, but wishes to extend the treatment with more advanced isolation, particularly for people who are sensitive to noise.
Therapeutic virtual reality immerses patients in a multi-sensory experience that can be personalised. Each patient chooses the environment according to their sensitivity and mood. We've even developed a colourful, dynamic world – the Magic Archipelago – to suit the youngest patients needs.
By combining practicality and functionality, therapeutic virtual reality is an ideal solution for improving the patient experience and facilitating the work of dental professionals.
2. A gentle and innovative management of pre-operative anxiety
A visit to the dentist's surgery or hospital often generates apprehension and anxiety, sometimes even a phobic reaction. The dental instruments, the smell of the products, the aseptic environment and the immobile position all add to the stress, despite themselves.
Anxiety is characterised by the anticipation or fear of future danger. As a result, dental procedures are often associated with negative emotional thoughts. The practitioner has to provide care, while the patient is on the alert, suspicious and watching out for the forthcoming procedure, which can lead to complications. As well as being unpleasant, this state is not without consequences.
In 2009, a team from an outpatient surgery department studied the link between anxiety and post-operative complications in 45 patients undergoing wisdom tooth extraction under general anaesthetic. Those who were anxious before the operation reported more post-operative problems, and of greater intensity, than those with lower stress scores.
This finding can be explained by hyper vigilance with regard to bodily sensations and a focus on unpleasant stimuli. Thus, symptomatic expression is modulated by anxiety. The study shows that the more a patient fears a situation, the greater the somatic reaction and the greater the feeling, whatever the objective reality of the physiological response.
Anais Protin analysed the impact of virtual reality on anxiety during dental avulsions under local anaesthetic. The results showed that 40% of participants had an 8-point reduction in STAI-YA anxiety between before and during the procedure. In addition, there were no adverse effects linked to the use of virtual reality, and 96% said they would do it again.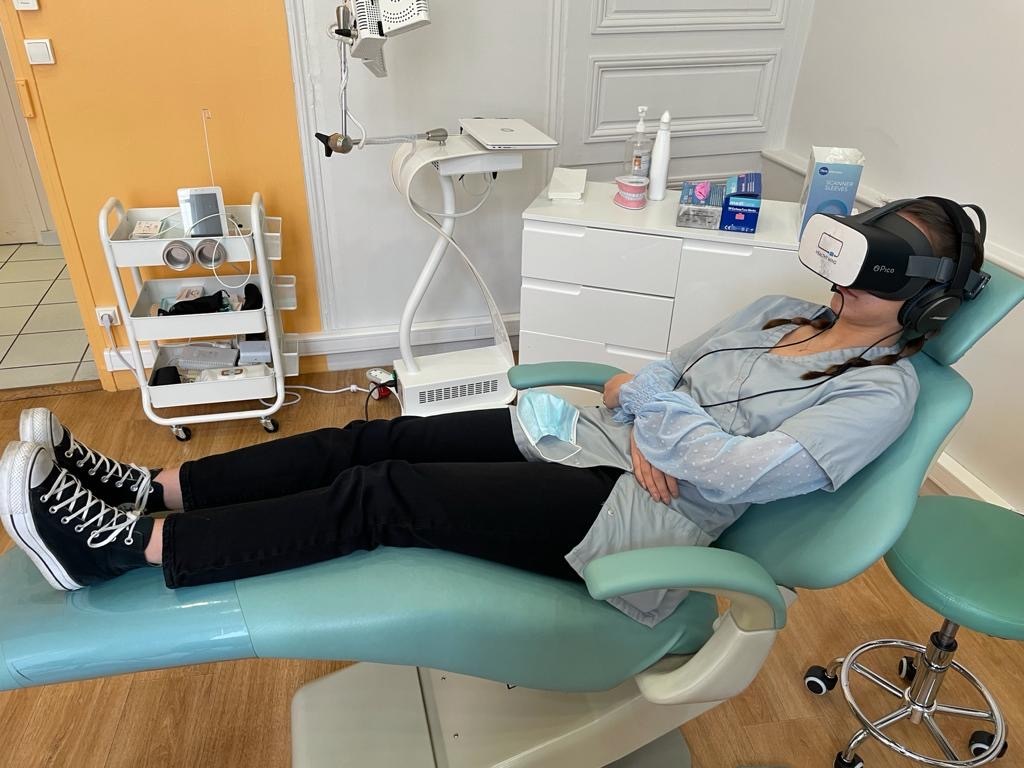 Pavlov's theory of conditioning explains that when we feel pain during a procedure, we associate this sensation with the treatment. The brain remembers this experience and the next time the patient is treated, he or she will remember the pain.
With virtual reality, patients create less anxious memories that will enable them to look forward to future appointments with greater peace of mind. As a result, immersions offer a more positive experience of dental consultations and better long-term care.
3. A technology that soothes post-operative pain
During dental treatment, patients are immobilised for long periods, lying down with their mouths open, totally focused on the care they are receiving. Because of this intense concentration, patients are more receptive to pain in anticipation. This apprehension contributes to worsening the state of stress. In this way, anxiety and pain come together in a particularly unpleasant vicious circle.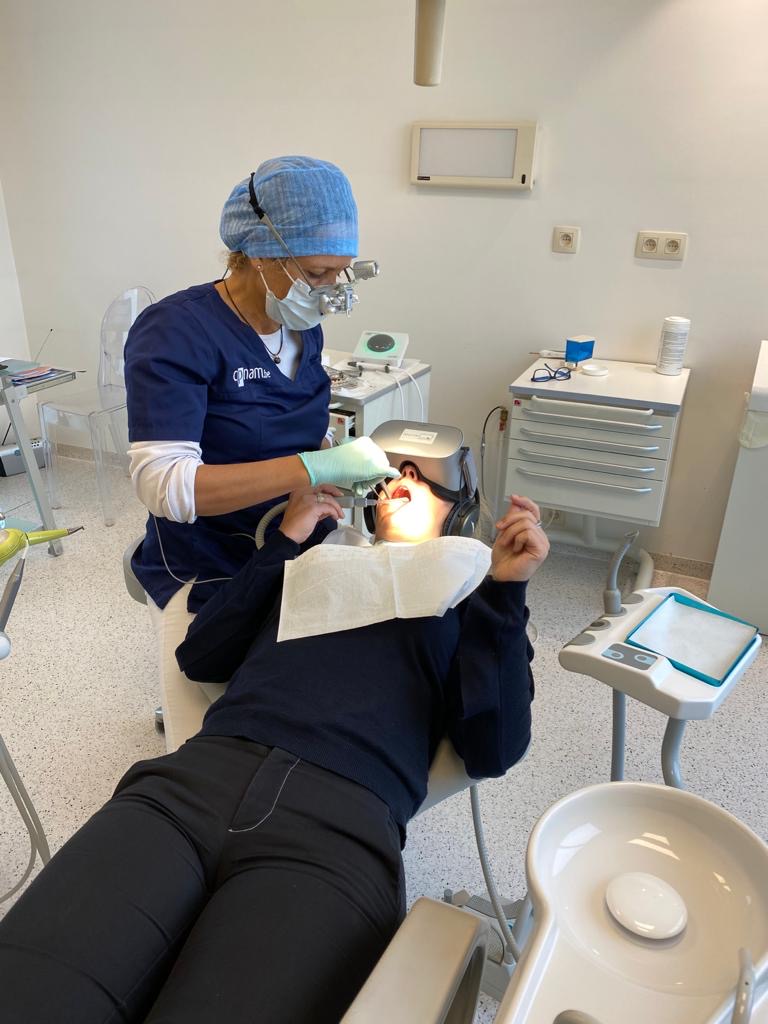 Pain is a complex experience, with sensory, cognitive, behavioural and psychological components. In order to exist, it requires attention, and if part of this attention is diverted, the patient will respond more slowly to incoming pain signals.
Therapeutic virtual reality builds on this technique by providing a distraction through immersion to take patients away from their painful sensation. It acts both directly and indirectly on perception and signalling through concentration, attention and emotion.
Distraction is a common non-pharmacological technique for reducing anxiety and alleviating pain, either passively or actively. In the medical and dental environment, immersions occupy the mind in a playful and pleasurable way with the aim of minimising negative or avoidance behaviour.
A study conducted by Hunter G. Hoffman in the United States showed a 50% reduction in cerebral activity in the five pain-related areas of the brain using magnetic resonance imaging (MRI), compared with not using the device.
Virtual helmets use a number of processes to achieve this feat, both visually and aurally, to provide a comfortable space in which to concentrate. To find out more, you can read our article explaining how virtual reality can reduce pain.
4. Virtual reality in dentistry reduces the use of anxiolytics and analgesics
Many patients turn to medication to reduce their anxiety in the run-up to an oral or dental treatment, an operation or a consultation. However, premedication with anxiolytics or the use of analgesics during dental procedures are not harmless.
Firstly, anxiolytic and analgesic drugs can have undesirable side-effects such as drowsiness, nausea and dependence. By acting on anxiety and pain using virtual reality, it's possible to reduce or even eliminate the need for these medications.
As a result, the risks associated with their use, potential drug interactions and risks for patients with complex medical histories are limited.
A study conducted by Hoffman in 2007 involving nine subjects aged between 20 and 38 years old compared virtual reality management with drug analgesia (opioids) for thermal pain stimulation. The results showed similar effects in terms of pain reduction. The combination of virtual reality and opioids produced even more significant results.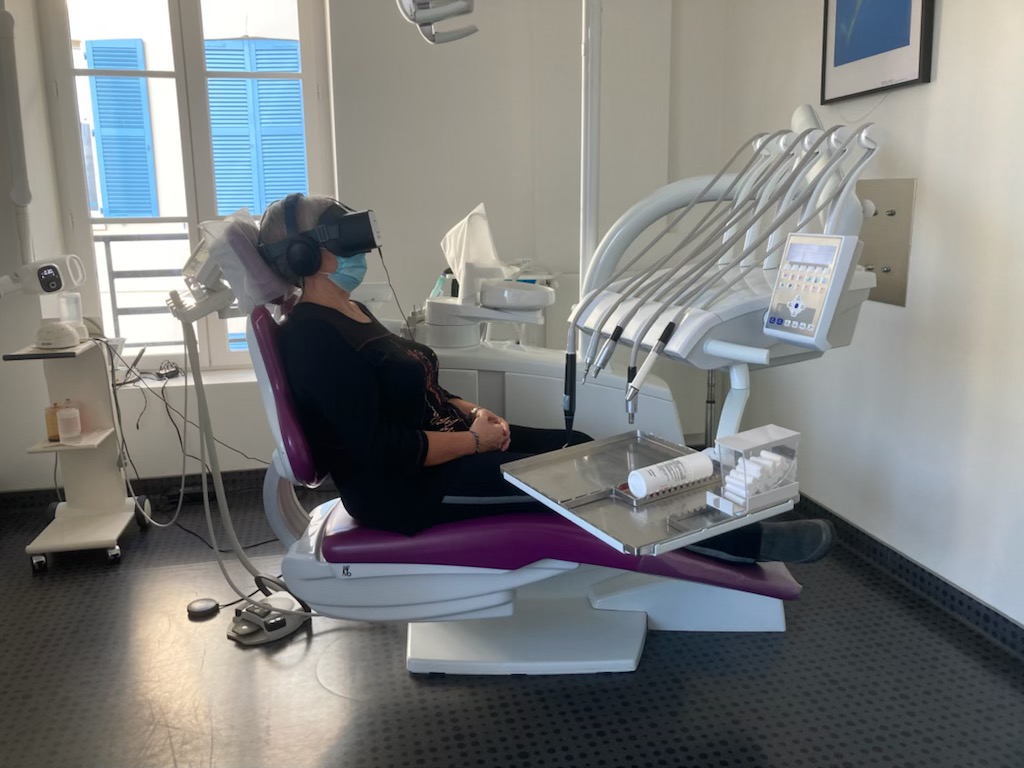 5. An immersion without side effects for patients
Virtual reality is used to bring relief to patients, not to cause more pain. For this reason, the design of Healthy Mind VR software is based on:
relaxing scenarios, with no potentially anxiety-provoking or disturbing elements;
content developed in collaboration with a team of anaesthetists and hypnotherapists to optimise the therapeutic process;
sessions that can be adjusted from 5 to 80 minutes to control the duration of use;
teleportation rather than travel to limit the onset of cyberkinetosis, the notorious virtual motion sickness.
Patients tell us about their experience after using the Healthy Mind virtual reality headset before or after their dental consultation:
"After a while, I let go, it was as if I'd been travelling. I'm going through a difficult period, and the immersion was a gift for me."

"After the implant, I was in pain and I spaced out my appointments because it was sensitive. But now [after immersion], I no longer have any pain. It's magical!"

"I was completely immersed. I felt a strong emotion, a great zenitude."
Virtual reality in dentistry offers a host of advantages that are revolutionising the experience of patients and the practice of oral health professionals. Thanks to a compact, ergonomic and wireless device, the immersions do not clutter up the consultation and can be adapted to the treatment, without penalising the procedure, communication or comfort. By reducing anxiety and pain with a non-medicinal approach, patients experience a calmer treatment, which facilitates the work of carers and the positive perception of future dental appointments. If you would like to find out how the device can be used in your medical practice, we would be delighted to arrange a demonstration.
Sources :