Far from the grandiose image that has long accompanied it on television, hypnosis has now become a part of everyday hospital life. Although the practice dates back more than 200 years, it took a long time before it seduced the medical team for its analgesic effects. Today, it is clear that the trend has evolved. Painful care, invasive procedures, emergencies, accompaniment to anaesthesia or obstetrics: its use is developing in most departments. However, this craze is not just a fad, therapeutic hypnosis in hospitals does have many benefits. So what exactly are those advantages that make medical hypnosis almost unavoidable to improve patient comfort? We explain everything in this article.
What is therapeutic hypnosis?
Hypnotherapy has long carried the weight of prejudice that has hindered its popularity. When people talked about this method, many imagined that they were plunging into a deep sleep and acting in an uncontrolled manner. However, this practice has nothing to do with a show dimension and has real benefits for relieving pain. Numerous studies testify to its analgesic effect and its capacity to offer physical and psychological comfort. So what is this hypnotic state?
Hypnosis is defined as a particular state of consciousness, between sleep and wakefulness, which leads the practitioner to focus on his inner environment. During this phase, which is similar to the feeling when we dream before falling asleep, our body is freed from external stimuli. In an anxiety-provoking situation, such as when waiting for an operation in a hospital, it is therefore of great interest.
Nevertheless, this technique differs from a treatment since it does not aim to cure a pathology. Its ambition is to alleviate pain and anxiety, not to make a disease disappear. The palliative effect of therapeutic hypnosis makes its use particularly relevant in hospitals to reduce the need of medication while allowing a reduction in suffering.
What are the benefits of using hypnosis in hospitals?
1. Offer a sensory journey to relaxation
Let's imagine for a moment a patient suffering from hot flushes. The hypnotherapist may recall a refreshing swim in the ocean or the feeling of an ice cube on the skin. Through therapeutic hypnosis and its mental imagery suggestions, the patient visualises a feeling of coolness. For our brain, the sensation is real. The activation of the corresponding brain areas is easily observed, as shown in the study by Heidi Jiang, Matthew P White, Michael D Greicius, Lynn C Waelde and David Spiegel published in Oxford University Press.
The sensory journey takes the patient out of the medical environment in order to put the pain at a distance. The advantage of this method lies in its ease of application and its adaptation to each symptom. The landscapes proposed or the words exchanged during this hypnotic phase can be adjusted according to the ailments encountered. Moreover, conversational hypnosis works wonderfully with children as it appeals to their imagination.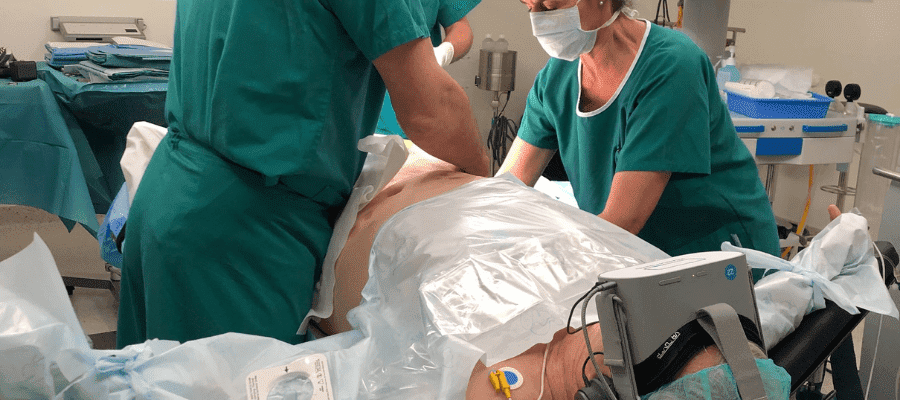 2. Reducing the need for general anaesthesia
Some surgical procedures are now performed with hypnosedation rather than general anaesthesia. This practice is appealing to many hospitals because of its less invasive action and because it enhances the value of the care it offers. Indeed, it gives the practitioner the means for personalised care. The modulation of anxiety and pain perception are the two major assets of this hypnotic tool in anaesthesia.
For example, the University Hospital of Tours has been performing brain tumour resection operations under hypnoanalgesia for several years. Dr Ilyess Zemmoura and Dr Eric Fournier were the first in France to use hypnosis for this type of operation. The University Hospital of Nimes proposes to perform colonoscopies under hypnosedation rather than general anaesthesia. Finally, the Lille University Hospital uses hypnosis to assist in childbirth or in the treatment of chronic pain.
Even during a local anaesthetic, the patient retains the sensations of the operation. The surgeon's gestures cause discomfort which is added to the stress of the operative context. Therapeutic hypnosis intervenes precisely to reduce this impression and help the patient to live the moment differently. In addition to reducing the use of medication, this method also limits complications, postoperative pain and recovery time. There are therefore many reasons to favour it.
3. Establishing a new patient-caregiver relationship
To conduct a therapeutic hypnosis session in a hospital environment, the staff must of course be made aware of it. The care of patients requires active listening on the part of the carers to best meet their needs. This attentive presence reflects not only on the effectiveness of the process, but also on the general atmosphere of the department.
Communication evolves to provide a calming and less agitated space. As a result, the hospital staff benefit from hypnosis. By initiating a new patient-caregiver relationship, therapeutic hypnosis enhances the overall care process.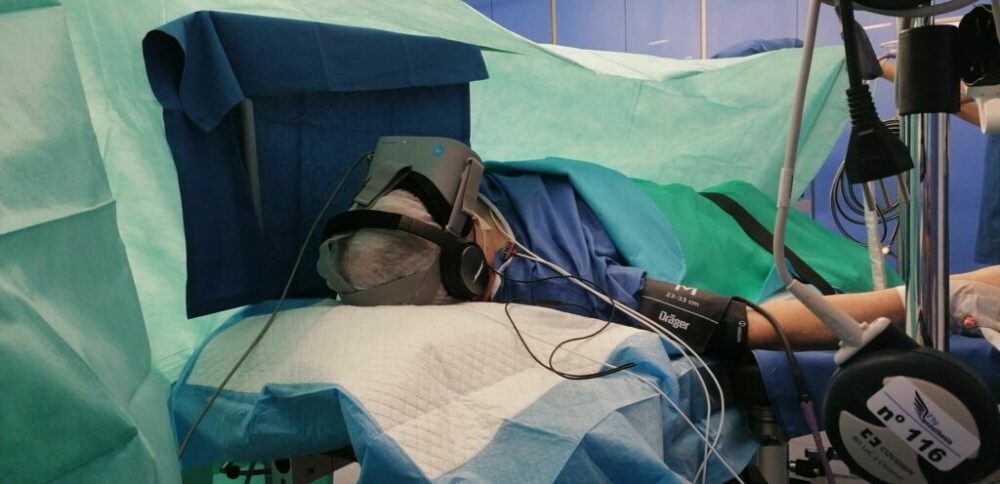 How to implement hypnosis in hospitals?
Encourage training in hypnoanalgesia
Medical hypnosis can be used for surgical procedures, dressing changes, painful care, palliative care, gynaecological and obstetric care and interventional radiology. Therefore, many actors in the hospital environment are eligible for training to become familiar with the concepts of hypnoanalgesia.
Given the specificities of the sector, therapeutic hypnosis in hospitals requires an adapted approach. The French Institute of Hypnosis, for example, provides training on this subject and a university diploma has even been opened at the Faculty of Medicine of Paris VI and then in a dozen universities such as Bordeaux, Nantes, Toulouse or Nice.
Using tools such as therapeutic virtual reality
Conducting hypnotic sessions when the hospital is understaffed is sometimes an impossible mission. In order not to neglect all the benefits of therapeutic hypnosis while bringing more flexibility to the medical team, there are effective and ergonomic tools. This is the case with virtual reality.
A therapeutic virtual reality headset uses several relaxing principles to create a deep sense of relaxation and a multi-sensory experience:
This technology relies on the same levers presented above: diverting the patient's attention from the pain to a more soothing aspect. The difference is that it delivers a complete proposal by combining several therapeutic principles. This combination offers a powerful solution to reduce anxiety-provoking elements and thus provide lasting relief.

Therapeutic hypnosis in hospitals offers a non-medicinal alternative to patients, in addition to improving their care. By reducing the scope of anxiety-provoking elements, this method provides a profound sense of relaxation. The benefits of the hypnotic experience extend even further as caregivers benefit from the calming effect of the technique. In addition to training medical staff, therapeutic virtual reality provides an equally reassuring and effective solution to reducing pain and anxiety. We invite you to discover all its advantages during a demonstration.
Sources :