A new year is beginning and already we can see promising innovations for the months to come. The medical field has no shortage of resources to improve the care pathway, revolutionise therapies or push the limits of surgical interventions even further. So what are the digital health trends of 2023 that are going to be the talk of the town? We propose to follow 5 major advances that brilliantly combine technological development, digital expertise and medical skills.
1. A phygital care pathway: between clinical examination and remote care
Since its legislative framework in 2018, telehealth has been increasingly developed. While this remote medicine has responded to the challenges of successive lockdowns, the use of new technologies serves another purpose: facilitating access to care in a context of medical desertification in France. At a time when the lack of medical practitioners is paralysing certain regions, teleconsultation provides an answer.
According to a study by the DREES (Directorate for Research, Studies, Evaluation and Statistics), 7 out of 10 general practitioners work in groups, sometimes at a distance. Telemedicine, with the sharing of documents or the management of availability on secure tools, therefore provides more coordination for carers and makes the patient's care process more fluid.
However, tele-expertise cannot completely replace the clinical examination, as some diagnoses cannot be made through a screen. In 2023, we are moving towards a care pathway that is balanced between clinical examination and remote care.
To meet these challenges, Caducy, a software developed by the start-up I-Virtual, proposes to provide health information in real time during the online medical consultation. With a 30-second video selfie, the professional will have access to vital signs such as heart rate or respiratory rate, which will allow to refine the diagnosis.
At the same time, chatbots are increasingly being developed to provide first-level psychological support or to offer a relay between consultations. In the context of a shortage of health professionals and an increase in mental health-related disorders, this dialogue opens up interesting prospects for care. It's likely that the year 2023 will see the development of this recourse.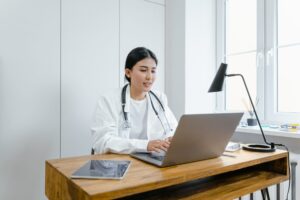 2. Connected objects: a support for medical monitoring
Connected objects (Internet of Things or IoT) are of medical interest because they can record, analyse and synthesise data. For example, it is possible to carry out self-measurement of blood pressure, provide assistance in the treatment of type 1 diabetes or monitor complications of lung cancer. Watches, biopatches or smart hearing aids can be used to continuously monitor a person's vital signs.
Presented at CES 2023 (Consumer Electronic Show), AeviceMD offers a wearable stethoscope that detects abnormal wheezing for chronic diseases such as asthma. Eventually, the data collected will be used by doctors to assess the cardiopulmonary health of their patients. After the scales and watches, the French start-up Withings also presented a new connected object for analysing urine that can be attached to the edge of the toilet. Each cartridge can be used to perform a hundred tests at home.
In addition to monitoring capabilities, these devices can also analyse the patient's behaviour and environment. In this way, it will be possible to build individualised causal models and to go even further in personalising care.
Respect for the privacy of the people who consult doctors is the basis of the trust placed in them. Therefore, the same ethical requirement needs to be maintained in the processing of data. Digital health involves security issues, both in terms of the connected objects and the data collected. For this reason, the need for skills and tools in the field of e-health cybersecurity is expected to grow.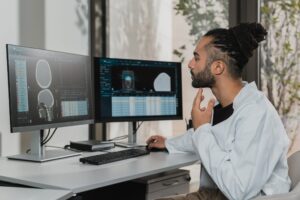 3. Artificial intelligence: a valuable aid to diagnosis
Artificial intelligence (AI) is not new, since the first expert systems were born in 1960. Since then, two approaches have been developed, one symbolic based on logic and the other digital based on data. The one we are interested in here belongs to the second trend.
Using deep learning algorithms, an application has been designed to detect possible melanomas on skin photos or to detect diabetic retinopathy on retinal images. To achieve this result, a large number of learning samples were required (50 000 for the first case, and 128 000 for the second).
With this same logic, several projects are being developed to improve diagnosis, such as the SUOG (Smart Ultrasound in Obstetrics & Gynecology) system to improve the quality of ultrasound examinations during pregnancy (inspired by the decision support system for ultrasound analysis or ectopic pregnancies [GEU] of LMICS and the Trousseau Hospital, OPPI) or the PsyCARE project for the early management of schizophrenia and chronic psychosis.
Far from replacing health professionals, algorithms and artificial intelligence are seen as allies in decision-making and therapeutic strategy. Although these technologies already exist, their massive use is not yet widespread. Nevertheless, we are currently witnessing the massive development of AI in the e-health sector and these innovative technologies should reach maturity by 2030.
4. Robotics, artificial intelligence and 3D printing: an alliance that reinvents the operating theatre
Robotics is a specific subfield of artificial intelligence. The aim is to increase the autonomy of machines by equipping them with perceptual, decision-making and action capabilities. For example, computer-assisted surgery makes it possible to improve the precision of a gesture or even to operate at a distance.
3D printing is pushing the boundaries of surgical practice even further. Three-dimensional modelling of organs helps the surgeon to plan the surgical strategy, but also to ensure that the operation is less invasive and safer. Bioprinting also opens up innovative perspectives for transplantation.
In parallel, the expansion of robots for personal assistance is a fast-growing sector that is likely to be in the news in 2023 because of the ethical questions it raises.
5. Digital therapeutics (DTx): a growing digital health trends in 2023
As early as the 1990s, researchers were interested in using virtual reality (VR) to treat patients with phobias. Although the equipment at the time was rudimentary and expensive, the technology has since become more independent. Today, this solution  is being developed in many hospital departments and is proving its relevance in a number of applications (medical imaging, dialysis, paediatrics, gynaecology, odontology, palliative care, colonoscopy, chronic pain, etc.).
Immersion in a virtual reality scenario serves to alleviate, or even relieve, the pain and anxiety of patients. In some cases, the device can even avoid the need for general anaesthesia. As you can see in our clinical research section, study results show a significant reduction in anxiety and suffering after using virtual reality headsets.
The digital health trends for 2023 are looking towards better management of teleconsultation, an increased presence of connected objects to monitor patients, a growing development of artificial intelligence for diagnostic support and surgical performance, and more frequent intervention of digital therapies in the care pathway. To accompany the digital evolution of the sector, the government has launched an investment plan in innovative technologies: the France 2030 programme. Healthy Mind is proud to have been selected with the NeuroMindinov project, a digital therapy combining immersive virtual reality and neurofeedback. While waiting for this device to see the light of day, we will be delighted to show you all the benefits of our virtual reality environments. Do not hesitate to contact our teams!
Sources :