Practiced for a few years in areas qualified as "medical deserts", telemedicine is today experiencing a considerable boom. Indeed, since the COVID-19 health crisis and the successive confinements, video consultations are now taking place everywhere in France. In the context of this new organization of the healthcare system, would we finally obtain equal access to healthcare for French population? What are the terms and conditions of telemedicine, and what does it mean in concrete terms for the patient and the practitioner? Let's discover the main advantages of teleconsultation! 
Same conditions as physical consultations
Democratization and legislation of telemedicine consultations 
On September 15, 2018, the signature of addendum 6 to the medical convention legalizes telemedicine practices throughout France and overseas territories: rates, conditions of implementation, coverage … 
From now on, whatever their sector of activity, all doctors are entitled to offer video consultations to their patients, if they deem it appropriate. The doctor in question may be a general practitioner or a specialist: masseur-physiotherapist, gynecologist, midwife, dermatologist, psychologist, psychiatrist, ENT specialist, pediatrician, dentist, etc. 
Since then, teleconsultations have experienced considerable growth, especially since the COVID-19 health crisis. Between April 6 and 12, 2020, health insurance funds such as french Social Security Ameli reimbursed one million teleconsultations.
Access to healthcare for all thanks to remote consultations
In telemedicine, the consultation is therefore carried out remotely, between a patient and a doctor. All patients are concerned by telemedicine, whether they have a chronic or a one-off disease.
However, according to the legislation, the teleconsulting doctor must ideally know the patient, i.e. have received the patient in physical consultation in the 12 months preceding the teleconsultation, and the teleconsultation must be carried out in accordance with the course of care. In other words, the patient must have been referred to a teleconsulting physician by his or her attending physician, except in exceptional cases (emergency situations, specialist physicians, patients under 16 years of age, etc.). 
Tele-consultation appointments are generally made on Doctolib or other platforms. As for consultations, they take place via Skype, WhatsApp, Zoom, Messenger or Facetime. They can take place from the patient's home (via a tablet, a computer or a smartphone), or from a healthcare institution: Ephad, multidisciplinary health center, city office, clinic, hospital… It all depends on whether the patient is assisted by another healthcare professional during the consultation… Or not.
The same rates as for a face-to-face consultation
A remote consultation takes place in the same way as a classic consultation. At the end of the remote medical appointment, the teleconsulting physician issues a prescription or order to the patient, either by mail or by post. 
Also, the patient benefits from the same rates and reimbursement terms as for a face-to-face consultation. Thus, the Health Insurance reimburses 70% of the consultation, and the Complementary Health Insurance (mutuelle), 30%. For patients benefiting from the third party payment, the teleconsultation is fully covered. As for the payment methods, they are the same as for a physical consultation: check, online payment, bank transfer…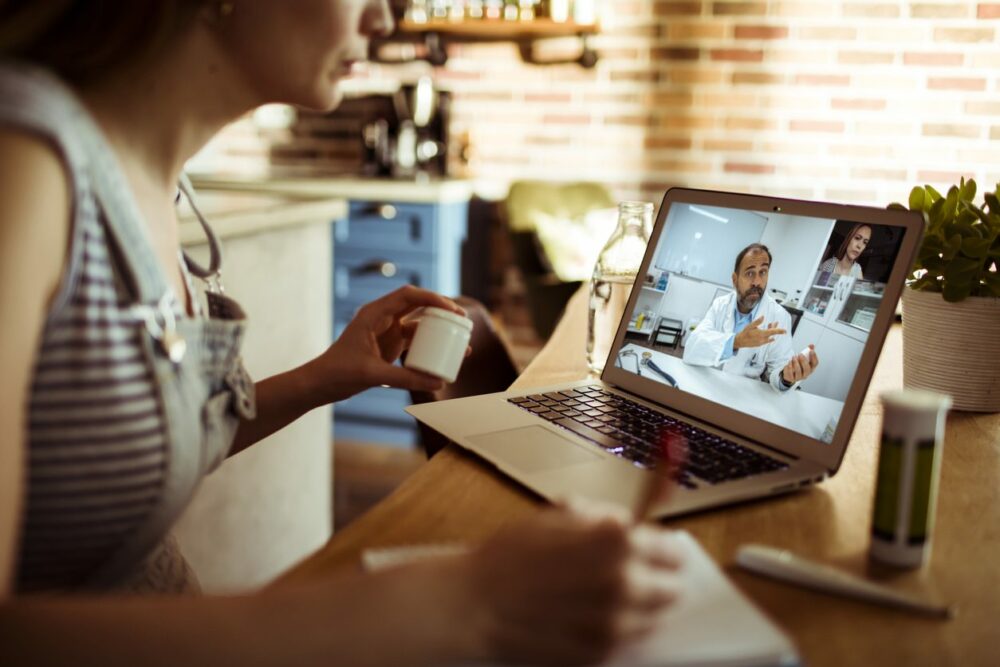 Online medical records and appointments 
Online medical monitoring 
Have you ever heard about the DMP (Shared Medical Record)? This digital health record centralizes all of your information, documents and medical history: medical history, current drug treatments, test results or blood tests, consultation or hospitalization reports, etc. It is also a centralized repository for all of your medical information. 
While this medical information is secured, you can share it with healthcare professionals if you want. Please also note that in case of emergency, caregivers can access this information so that they can take care of you quickly and efficiently. Creating your online medical record is easy. You can do it from the website or the DMP application, by downloading the DMP application from the Apple App Store or Google Play. 
In addition, the Doctolib appointment scheduling site also allows for online medical follow-up. Indeed, the Doctolib interface allows you to receive your medical documents from health practitioners thanks to teletransmission. 
Teleconsultation applications
So, from making an appointment to consultations, everything is now done online. This is why teleconsultation applications are flourishing on the web, to compete with Doctolib… Most of them are paying but today, you can book your medical appointments online on new teleconsultation applications, such as : 
Qare: a specialized platform for consultations with psychologists, psychiatrists and healthcare professionals from more than 40 specialties. Appointments can be made over a wide hours range, from 7am to 11pm, during the week and on weekends.  
Livi specializes in pathologies that are "difficult to admit" to a doctor. 
Mesdocteurs positions itself on quality support between patients and health professionals. 
Medadom guarantees its subscribers to be able to make a medical appointment with a general practitioner or a specialist in less than 10 minutes. 
Biloba is a paid application (34,99 €/year), which allows you to solicit your health professionals as many times as you wish, 7 days a week. 
Medaviz guarantees its users a simple and immediate connection with a healthcare professional at any time of the day or night.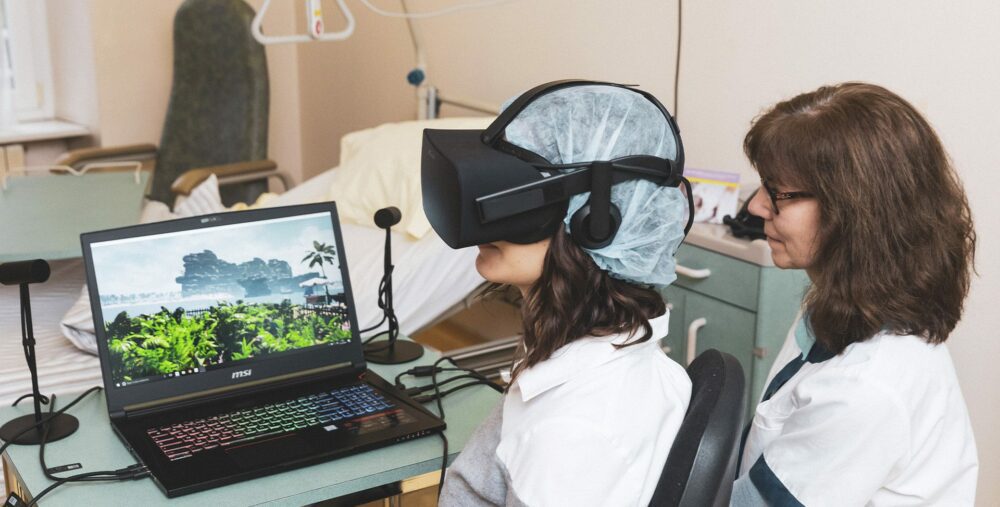 The efficiency of teleconsultations
The main advantages of teleconsultations
There are many advantages to the success of a video consultation. Among them, you will find :
You can consult a health professional and have access to care despite the confinement. 
The absence of risk taking and exposure to the virus related to travel.
The fact that any health care practitioner can offer virtual consultations, regardless of his or her scope of practice.
Time saving, since you don't have to travel and then wait in the waiting room. 
Faster care because of the many teleconsultation slots available. 
The virtual exchange can encourage the patient to take a distance: reduction of psychological resistance and shyness. This is particularly the case for psycho-therapies (psychiatry, hypnotherapy…). 
The ease of online booking, for those who are comfortable with computers: a quick booking, with the possibility to choose the day and time slot of consultation. 
Same prices and reimbursements as a physical medical consultation, for contracted health professionals.
However, video consultations are not only advantages. Indeed, telemedicine is not possible for some applications, when the therapy is based on the patient's body manipulation (physiotherapy, osteopathy), or on a necessary physical intervention (dentist, hospital care provided by nurses or caregivers, surgical acts, operations…). In addition, possible technical problems related to the connection, the quality of the image or sound, may alter the quality of the consultation. Finally, a virtual interaction between the practitioner and the patient can sometimes create misunderstandings… 
Tele-expertise to improve patient's care
The development of telemedicine goes hand in hand with the development of tele-expertise. What does it consist of? Tele-expertise allows a health professional to seek the advice of a colleague with a particular skill. With the patient's consent, tele-expertise can be carried out live during a consultation, by instant messaging. It significantly improves the quality of patient care.
Until 2019, tele-expertise was a practice reserved for certain patients with rare diseases, residents of rural areas, patients of EPHAD and medico-social structures, or prisoners. However, since 2020, tele-expertise has been extend o the entire French population. 
Studies confirm the effectiveness of telemedicine
The Mosso et al. 2009 study published in the Annual Review of CyberTherapy and Telemedicine (Interactive Media Institute) demonstrates the effectiveness of telemedicine in psychiatry. As part of this therapeutic study, the virtual reality software "Second Life" is tested on a woman suffering from dependent personality disorder (obsessive-compulsive traits and severe physical somatization). Thanks to virtual reality, the patient and her psychiatrist meet in a virtual office, and interact via their avatar and chat. 
At the end of this test, the conclusions are positive: 
a high sense of presence for both parties;
the virtual setting breaks down the patient's psychological resistance;
the possibility of more frequent consultations between the patient and her therapist. 
Since its legislative framework in 2018, telehealth has experienced a certain boom. Admittedly, it must be alternated with face-to-face consultations, and cannot be practiced in all cases of application. However, teleconsultations are still quick, simple and effective. Moreover, they are based on the same modalities as physical consultations in terms of reimbursement, coverage, prescriptions… From making an appointment to transmitting a prescription, including patient consultation, everything is now done online, thanks to the development of digital technologies and virtual reality.