What are the applications of virtual reality in medicine?
You probably know VR headsets from their use in video games, but did you know that their field of application is much wider? Originally, virtual reality was developed for non-medical reasons, but rather for military and entertainment purposes. However, 3D glasses have now conquered many hospitals thanks to their versatility and practicality. These visualisation techniques are based on three principles: immersion, navigation and interaction. So, in concrete terms, how are they used in this sector? Let us surprise you with 5 applications of virtual reality in healthcare!
1. Encouraging training with VR
Virtual reality creates concrete, coherent and immersive environments in which health professionals or future professionals can practice. For example, the simulation tool developed by SimforHealth was specifically designed to accompany interns in medical schools by offering a specific emergency situation in which they will have to make a diagnosis. Therefore, the programmes highlight the reality of the profession, its demands and rapid decision-making, while reducing the risks in the field.
Learning about surgery is also the subject of simulation. This virtual medical education corrects several constraints of face-to-face training:
the capacity of the operating rooms;
the space available in the room;
the risk of infection, which increases with the number of people present.
To address this issue, Sony Healthcare Solutions has set up an audiovisual platform that offers an immersive view of all medical procedures. Students watch an operation using 4K 3D and 2D images from endoscopies and endoscopic cameras. For hands-on training, the British company Fundamental VR adds the sense of touch (HapticVR technology) to the immersive process to establish qualitative surgical training.
Virtual glasses are used to preview critical situations, whether it is a complex diagnosis or the announcement of a serious event. This social part represents a major aspect of the daily life of healthcare practitioners. Moreover, the French National Authority for Health strongly recommends that staff be trained about this sensitive issue. This is the purpose of the ACORFORMed project, financed by the National Research Agency. In this simulation, a virtual patient, animated and autonomous, reacts verbally and physically to the doctor's behaviour. Thanks to virtual reality, this kind of session can exist, whereas interviews with an actor in the patient's place would be more cumbersome and expensive to organise in hospitals.
2. Enabling advanced teleconsultation with virtual visits
Since the COVID-19 health crisis, telemedicine has become increasingly widespread throughout the world. Previously common in areas described as "medical deserts", video consultations are attracting many patients thanks to :
faster treatment;
simplified accessibility;
online management that facilitates booking and follow-up;
a pricing policy equivalent to that of a physical medical consultation.
So what can virtual reality bring to a system that already seems to work fine? The screen produces a limit to social contact and clinical observation that the 3D glasses can overcome. Positive effects have been observed in psychiatry, as shown in the Mosso et al. 2009 study published in the Annual Review of CyberTherapy and Telemedicine (Interactive Media Institute). This experiment was conducted using the virtual reality software Second Life to gather the patient, who has an addictive personality disorder, and her psychiatrist in an office. The results show a high sense of presence and a setting that allows the patient's psychological resistance to give way. In addition, the prospect of more frequent consultations emerges as an asset of these virtual sessions.
Other initiatives are moving in this direction, such as the one by the American company XRHealth, which has set up a telehealth clinic. It delivers a virtual reality headset before connecting patients to their therapists on their platform. They then set up cognitive, memory or language training, but also post-COVID rehabilitation or support groups.
Virtual reality creates a space of trust, more immersive than a traditional teleconsultation, which encourages involvement in the interview. The addition of an entertainment dimension often allows patients to participate more actively in the experience.
3. Improving patient rehabilitation methods with virtual reality in healthcare
Rehabilitation is a long and often painful process. Augmented reality, however, provides a valuable playful perspective that turns effort into pleasure and reduces pain. In physiotherapy, the therapeutic game lifts the patient's apprehensions and allows him to concentrate entirely on the proposed experience. Thus, the patient naturally performs the movements necessary to regain mobility. KineQuantum offers this comfort in practices, hospitals or SSR clinics with programmes designed for effective muscle recruitment.
This motor skills training has multiple benefits for stroke patients. The simulations mobilise the paralysed limbs, which promotes progressive recovery. Several studies, such as the one by Sinae Agn and Sujin Hwang and the one by William E Clark, Manon Sivan and Rory J O'Connor, show the effectiveness of VR in improving upper limb function and independence in patients. With a team of neuroscientists, therapy engineers and developers, Swiss startup MindMaze dedicates its rehabilitation programmes to stroke survivors.
The Walk Again Neurorehabilitation project, developed by Dr Miguel Nicolelis of Duke University in North Carolina and published in 2016 in the journal Scientific Reports, offers a surprising discovery. The experiment consists of carrying out virtual reality sessions with a group suffering from chronic spinal cord injuries. Each person was equipped with a custom-designed exoskeleton. At the end of the one-year protocol, 50% of the patients have recovered sensation and partial muscle control. These results were enough to change the diagnosis from complete paralysis to partial paralysis, a most encouraging development.
4. Detecting pathologies to improve diagnosis and care
How can VR improve the diagnosis of certain conditions? By creating a programme that highlights a particular symptom. The most striking example is that of Alzheimer's disease. One of its characteristics is that it alters the spatial orientation mechanism. Several teams of researchers have considered virtual reality as a means of detecting people likely to be affected by the disease at an early stage.
Neuroscientists at the Centre for Neurodegenerative Diseases in Bonn, Germany, have developed a virtual maze that can detect the risk of brain degeneration as early as age 30. The results of the study, published in 2015 in the journal Science, show that certain "grid cells" were reduced in the group with symptoms, resulting in a different navigation compared to the other group.
In addition, VR technology is an excellent educational tool for care. Indeed, the nursing staff can use the simulations to provide a detailed reconstruction of the body parts. In this way, the patient will have a complete and realistic view of a procedure, the effects of a disease or a treatment.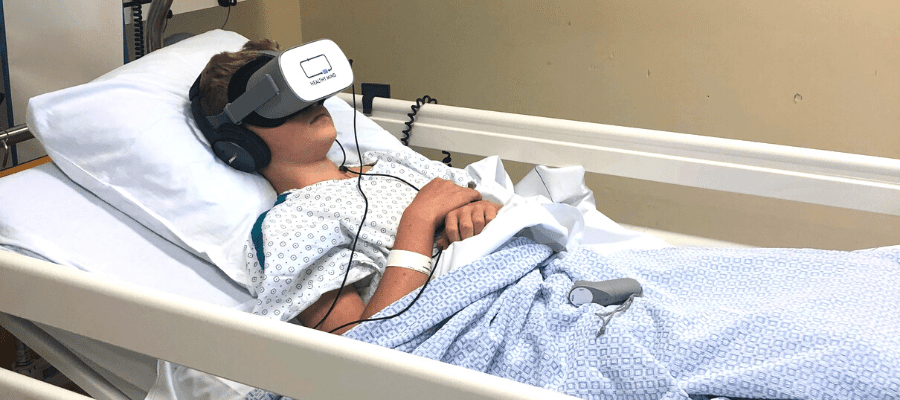 5. Providing therapeutic comfort with virtual reality headsets
Therapeutic virtual reality aims to reduce patients' pain and anxiety. How can it achieve this performance? VR combines several processes that promote deep relaxation:
Thanks to its soothing aspect, augmented reality diverts the patient's attention to provide lasting relief and facilitate anxiety-provoking or painful procedures such as IVF puncture, locoregional anaesthesia or PRP injections. It reduces or eliminates the need for medication and promotes patient recovery by reducing postoperative complications.
Caregivers can also use this device in order to relieve the pressure and mental load associated with their exhausting working conditions. This moment of well-being offers instant disconnection and prevention of psychosocial risks.
Virtual reality in healthcare is becoming increasingly important, whether it is for the doctor's practice, the training of healthcare professionals or for patients in therapy or rehabilitation. At Healthy Mind, we have chosen to use this medical device to relieve patients' anxieties and facilitate the work of the medical profession. To find out more, please see the application cases for our virtual reality headsets.