The care professions currently suffer from a lack of recognition of their specificity. This gap, in addition to a heavy workload, often results in a state of fatigue and anxiety. This phenomenon has an evocative name in all languages. The Anglo-Saxon term "burn out syndrome" suggests overheating and a possible risk of explosion, while the Japanese translation "kaloshi" simply means "death by fatigue at work". Although the French term "Caregiver Burnout Syndrome" (CBS) is less violent, it still captures a stark reality. Resolving this problem will not happen in a snap of the fingers, but solutions are emerging to ease the tensions of the medical profession. So, how do you manage caregiver stress? We suggest 5 methods to relax.
1. Learning to manage your breathing with an introduction to sophrology
The stress of the carer is manifested by saturation with administrative tasks, but also by psychological exhaustion. Exposure to the suffering of others on a daily basis, as well as death, leads to a mental burden that is sometimes difficult to evacuate. All the more so as the hectic pace of consultations does not make the task any easier. So, how can we bring relief?
When anxiety is based on repetitive thoughts, negative feelings or strong physical sensations, then sophrology can help. This therapeutic method uses deep breathing and positive visualisation techniques to achieve true muscle relaxation. Verbal and non-tactile, this mind-body practice helps you to let go and to understand your emotions. After eight to ten sessions, you will be able to integrate the principles and apply them to relax in everyday situations.
2. Testing energy resonance through cutaneous stimulation as an anti-stress method
Unlike sophrology, energy resonance through cutaneous stimulation is a method that uses the sense of touch, not voice. This holistic approach was developed by a physiotherapist and is based on the principles of Chinese medicine. Several hospital departments have adopted this method to relieve the nursing staff, particularly those in the operating theatre, such as the Hospices Civils de Lyon, the CHU of Nimes, the CH of Carpentras or Avignon.
Who practices these sessions? It may surprise you, however it is the carers themselves who train and spread this benevolent mutual aid. Resonance by skin stimulation offers an anxiolytic and analgesic action. It provides well-being through the relief of certain symptoms caused by stress such as headaches, irritability, insomnia or mood disorders.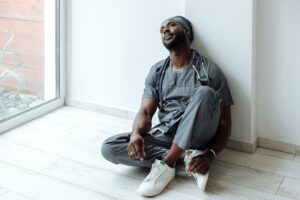 3. Installing a "Zen Zone" for an instant breath of fresh air
What if there was a place dedicated to relaxation in hospitals? You may be familiar with the Snoezelen area, which is based on sensory stimulation through the five senses and is becoming increasingly popular in retirement homes. The objective of the "Zen Zone" is similar, as it aims to support the mental and physical health of carers in an accessible way, in their workplace. Within this space, several practices can converge, with sophrology and energy resonance at the forefront, to offer a cell dedicated to serenity.
At the Lille University Hospital, the creation of this space proved necessary after months of struggle in the face of the Covid-19 epidemic, which increased the famous stress of the care worker. It will thus concentrate several activities from naps with furniture adapted to manipulations with physiotherapy and osteopathy sessions to creative leisure activities such as sewing, singing or playing an instrument. These moments guarantee a welcome comfort to take care of exhausted bodies and minds.
4. Using the TIPI method to manage caregiver stress
Also known as sensory reliving, the TIPI method (Technique for the Identification of Unconscious Fears) is based on the principle that we all have the physiological capacity to regulate our emotions. Developed by Luc Nihon, it aims to go back into our memory so that negative emotions lose their hold. To do this, sensations take precedence over the intellectualisation of our feelings. Thus, the TIPI method focuses on the physical manifestations that accompany stress, such as sweaty hands, a knot in the stomach or palpitations. Reliving the emotion by means of this anchoring allows it to be deactivated in the long term.
A study of 278 people was conducted from 2003 to 2007 and concluded that 79% of them achieved emotional relief during the first consultation. Although further research is needed to confirm these results, emotional regulation is an interesting avenue for dealing with caregiver stress.
5. Experiencing virtual reality to relax in the hospital environment
Therapeutic virtual reality helmets allow a quick and effective disconnection from the work environment thanks to a 5 to 80 minute immersion in exotic settings. Relaxation principles such as medical hypnosis or music therapy are added to a high graphic quality to achieve a state of cardiac coherence. This medical solution thus effectively relieves the caregiver stress thanks to a powerful anxiolytic effect.
Some hospital groups are already integrating these powerful therapeutic tools into their departments or care units, such as the EpiCURA center in Belgium. In a wellness area, nursing staff use Healthy Mind virtual reality headsets in the rest room before resuming their consultations. The report by the French channel M6 also mentioned the beneficial effect of this device.
Taking care of others also means taking time for yourself. To do this, individual and organisational approaches make it possible to deal with caregiver stress, whether it be through sophrology, the installation of a relaxation zone or the use of virtual reality headsets. At Healthy Mind, we have chosen to focus on the latter approach because it concentrates many relaxing principles in one practical and accessible device. We offer you the opportunity to find out more during a demonstration, so please contact us to see the benefits for yourself.