Therapeutic virtual reality to
reduce pain and anxiety
We provide healthcare professionals with an evidence-based medical device that combines immersion through virtual reality technology, medical hypnosis and advanced therapeutic principles to alleviate pain and anxiety of patients.
Our medical solution transports the user into purposely designed 3D experiences to journey through the natural and therapeutic environment of his choice. Each detail of our immersions has been designed, tested and optimized to reduce pain and anxiety.
Our immersions are amplified by the realism of our 3D environments, a soothing sound atmosphere and specific medical hypnosis scripts for each theme. Targeted breathing exercises are also integrated to better manage stress and emotions.
Proven clinical efficiency
The immersive virtual reality solution provided by Healthy Mind has its proper place in the therapeutic arsenal, notably as a complement of sedative pharmaceutical techniques (...). Its visual and auditory immersive quality, realism and customization make it a high quality instrument.
Dr Christophe Rabuel
Anaesthetist Hôpital Lariboisière - APHP
The virtual reality device changed the perception of pain for many patients. This innovative approach has been appreciated and raised both interest and curiosity. Its use in the emergency department gave more confidence to patients seeking non-drug treatments for pain management.
Chrystelle Hautecoeur
Nurse Eure-Seine hospital center
I felt like I was on a cloud, with a fabulous setting, magnificent, teleported, transported. Forgot everything, forgot my illness, and then forgot my condition. Happiness!
HERVÉ TREGUER
PALLIATIVE CARE PATIENT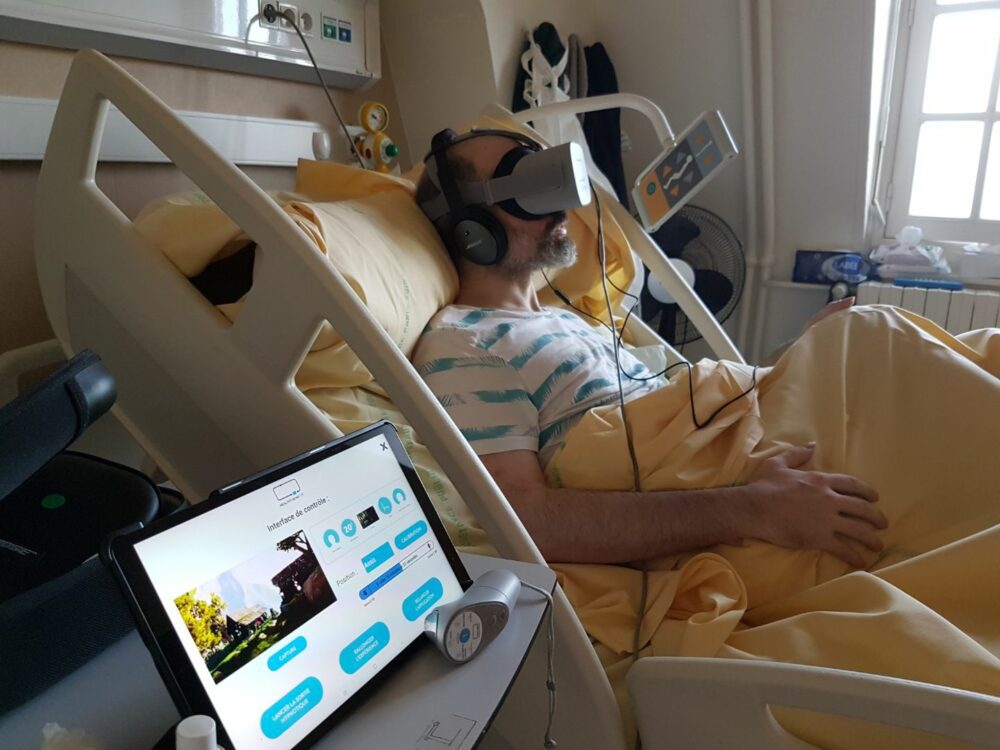 A distributed and referenced solution
Our solution is distributed for hospitals and clinics in France by the company Gamida, which has been offering medical devices for more than 50 years to improve the well-being of patients and facilitate the work of caregivers.
Via our distributor Gamida, our medical device has been referenced by UGAP and UniHA, the French public hospitals purchasing group recommended by the Ministry of Health. Following a call for tenders in 2019, our solution was selected as the most advanced on the market while remaining easy to use.
Customer and partner references